---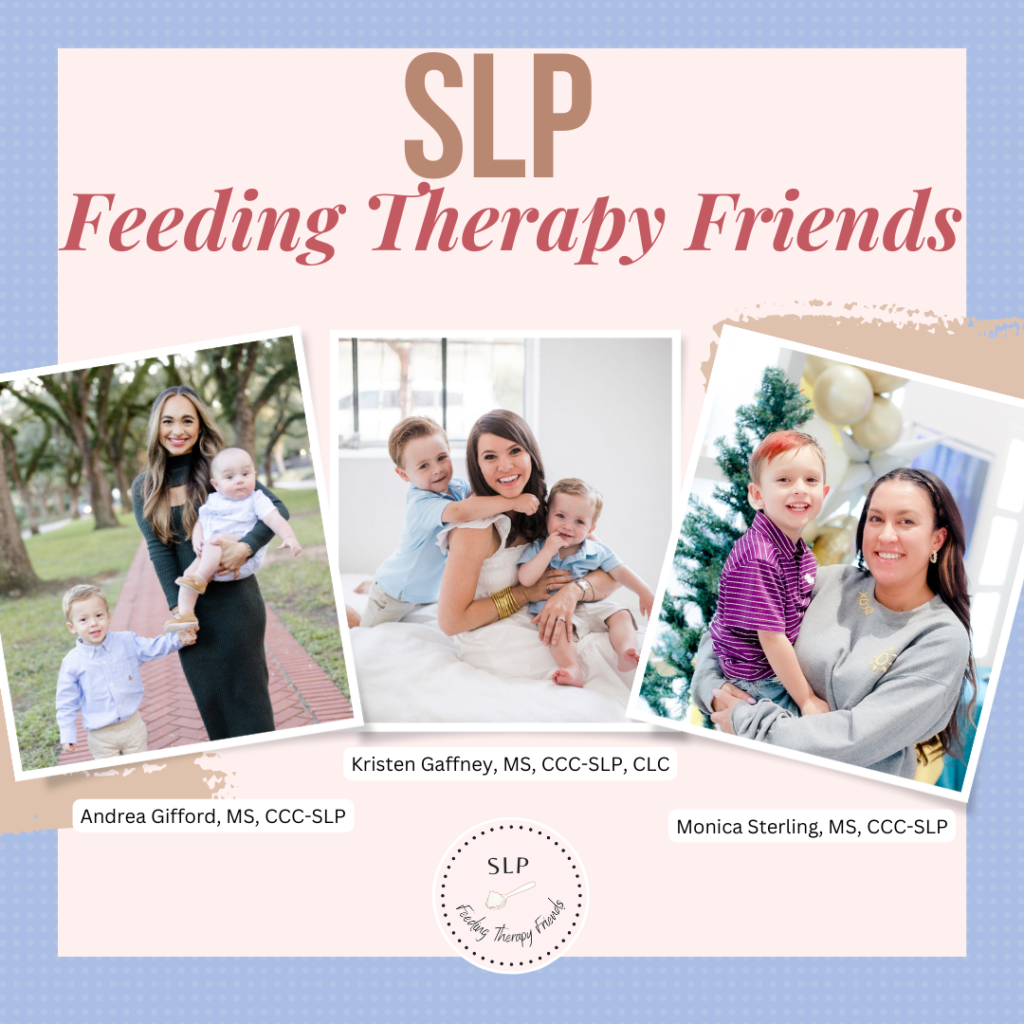 Welcome to SLP Feeding Therapy Friends! Three SLP's who met seven years ago while working together in the Pediatric hospital setting! We became quick friends while bonding over the day to day of our jobs in rehabilitation!
7 years and five little boys later, we still share the same passions as we did years ago!
With over 10 years of professional experience each, you can be assured that your feeding advice will be focused on your child's and families unique needs. Our goal is to empower caregivers and motivate children to believe in themselves to reach their goals.
Andrea Gifford, MS, CCC-SLP
Kristen Gaffney, MS, CCC-SLP, CLC
Monica Sterling, MS, CCC-SLP
---
Education and Licensure
Licensed Speech Language Pathologist, Texas
Certified Lactation Counselor, ALPP
American Speech and Language Association
University of North Texas, Masters of Communication Sciences and Disorders
University of Louisiana Monroe, Masters of Communication Sciences and Disorders
Texas Christian University, Masters of Communication Sciences and Disorders
---
Clinical Experience
Cook Children's Medical Center, Fort Worth Texas

Utilized sequential sensory integration to encourage self-exploration for increased acceptance of a variety of foods in order to wean from G-button or alternative means of nutrition/hydration.
Provided swallowing therapy with Vital Stim modality supports to the pediatric population with pharyngeal dysphagia.
Taught parents and caregivers how to use hands on feeding therapy techniques in order to increase generalization and carry over to the home.
Evaluated children with voice disorders using Sona Speech Software II.
Developed and implemented individual speech and language therapy techniques for the pediatric population.
Closely collaborated with the child's team of physicians, registered dieticians, physical therapists and occupation therapists in order to implement individualized child-centered therapy.

Early Childhood Intervention, Fort Worth Texas

Provided feeding and language therapy to pediatric patients with a variety of disorders.
Implemented individual speech and cognitive-linguistic therapy techniques for children 0-3 years.
Conducted comprehensive speech and feeding evaluations utilizing standardized testing and clinical observation.
---
Continuing Education
VitalStim Therapy Certified- Adult and Pediatric
SOFFI Method with Erin Ross
Deborah Beckman M.S., CCC-SLP Oral-Motor Therapy
Joan Arvedson, PhD, CCC-SLP, BCS-S
Social Thinking with Michelle Garcia Winner M.S., CCC-SLP
Pediatric MBS: The Clear Picture
Treatment of Childhood and Adolescent Voice Disorders
Developing Speech through Listening for Children with hearing loss: Developmental and Remedial Therapies
Redefining our Roll: Responsive Feeding Therapy for Children
---